TOX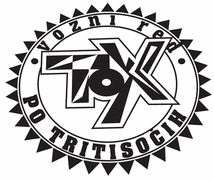 TOX – a timetable of the 3000's is a magazine that presents contemporary visual art and various intermedia practices along with art, sociological, philosophical, communication and cultural theories.

On one side the issues are prepared thematically, on the other as visual presentations of individual artists.

The editors are Aleksandra Kostič and Peter Tomaž Dobrila.

First issue dealt with the development of local urbanistic culture (1995), the second with the profile of European new media culture together with the catalogue of the 2nd international computer art festival in Maribor (1996) and the 3rd international computer art festival in Maribor (1997) and concluded with White Tox (Beli Tox, 1998), where printed media as interactive, multicultural and multimedia newspaper has been placed next to the question what can printed media still show us nowadays.

________________________________________
TiskovkaTOX 20 years: November 1995 / November 2015 (press conference 10. 11. 2015)

TOX became Kibla's publishing house mark in the year 1998. TOX - timetable of the 90's has been renamed in TOX - timetable of the 3000's and has developed from the magazine for culture into collection for contemporary art.

Published TOX publications:
2021 – Oleg Kulik: Zlato runo / Golden Fleece
2020 – Napeta sedanjost / Tense Present
2020 – Matej Čepin: Naslednji dan / The Next Day
2020 – Zdenko Huzjan: Zatišne lege
2019 – KIBLIX 2019
2019 – Osebno / Personal
2019 – Caravan Next Photo Book
2018 – Metka Kraševec: Prisotnost / Presences
2018 – Taktilni dialog / Tactile dialog, Eileen MacDonagh, Bojana Križanec (X-OP)
2018 – Exhibitions 2017
2018 – Razstave – galerijski program 2017
2018 – Shelters of Babylon (risk change / book 2)
2017 – Marko Jakše, Slepa čez gluhonemega (KiBela 2017)
2016 – Cameron Bobro, Bethel California (CD)
2016 – MIG 21 (risk change / book 1)
2016 – Saša Bezjak, You and Me. Artistic actions by Saša Bezjak
2016 – Franci Peperko – In memoriam (1978–2016) / Finally infinity
2016 – artKIT katalog 2015/2016
2015 – MFRU-KIBLIX 2015 Lift me up, Festival and exhibition booklet
2015 – SOFT CONTROL: Art, Science and the Technological Unconscious, EU project book
2015 – Mudus Vadit Retro, exhibition catalogue
2015 – UPTAKE - Increase Interest in Cultural Heritage through ICT, EU project book
2014 – Rising from the crisis, Artists on the road – Caravan Project (TOX 19, 48)
2014 – KIBLIX 2014 Paralele / Parallels, International intermedia festival (TOX 19, 47)
2014 – MATERIALNOST - MATERIALITY - MATERIALNOŠČ, international group exhibition (19. 4.–15. 9. 2013)
2013 – Maribor with eyes wide shut, a romantic city tour guide
2013 – When worlds collide, MFRU-KIBLIX2013 festival catalogue
2013 – (CD) WOMEN VOL.1, (with killamilla, ninđža, hidegard stein, zvezdana novaković, jasmina dajčman, ema radojičić, polona poklukar)
2013 – (Dis)harmonija, exhibition catalogue
2013 – (NE)ODVISNI, (NE)ZAVISNI, INDEPENDENT?, book
2012 - SOFT CONTROL: Art, Science and the Technological Unconscious / UMETNOST, ZNANOST IN TEHNOLOŠKO NEZAVEDNO (Mednarodni festival KIBLIX 2012, drugi del) Maribor, ACE KIBLA, 2012. (TOX 17, 41) ISBN 978-961-6304-29-0
2012 - ROBOTI IN AVATARJI – NAŠI SODELAVCI IN SOIGRALCI V PRIHODNOSTI (Mednarodniu festival KIBLIX 2012, prvi del) Maribor, ACE KIBLA, 2012. (TOX 17, 40)
2012 –KIBLA program 2012, editor Aleksandra Kostič
2011 – Interdisciplinary art as a cultural paradigm, X-OP 2008–2011. editor Aleksandra Kostič. Maribor: KIBLA, 2011. ISBN 978-961-6304-28-3
2011 – (CD) women_vol.01 (with killamila, polona-p, metka-g, nataša-b, zvezdana-n, jasmina-d, ema-r)
2011 – (CD) frajtondub _2011 _01
2010 - European Specialist profiles in eContent development professions DE/EN/FR/ES/HU/SI
2010 - Reference material with regard to methodological aspects of mapping skills and competences to learning outcomes in a European context DE/EN/FR/ES/HU/SI
2010 - Guidelines for training institutions to provide market-near training curricula DE/EN/FR/ES/HU/SI
2010 - A. Hallerstein – Liu Songling, The Multicultural legacy of Jesuit Wisdom and Piety at the Qing Dynasty Court, book
2010 - Stevie Wishart: The Sound of Gesture, CD & DVD
2009 - Post Me_New ID, book
2009 - avantgard_008_009, CD
2009 - Byzantine Cadillac, CD
2009 - Bojan Humski: STAF, book
2008 - Performing Pictures: Geska Helena Andersson & Robert Brečević, catalogue
2008 - Interieri: Primož Jeza, book
2008 - Pure energy!, book
2008 - Ksenija Čerče: Sonic, catalogue
2008 - KIBLA 2008, programme book
2007 - Mladen Stilinović: Vrijeđanje anarhije
2007 - Program do konca leta 2007, catalogue
2007 - ULICA 2012, CD
2007 - Eduardo Kac: Hodibis Potax, anthology (in english and french)
2007 - Digitalna komuna v Mariboru / Digital commune in Maribor, DVD
2007 - Kulturni koledar, catalogue / calendar
2006 - Multimedijski simpozij na temo mobilnosti evropskih znanstvenikov, brochure
2006 - Alenka Pirman: Zapri oči in glej, DVD
2006 - TRG: On Transient Reality and their Generators, Culture2000 project, catalogue with DVD
2006 - AES+F: Action Half Life, catalogue
2006 - Saša Bezjak: Risbe/Drawings, catalogue
2005 - Electronic Agora (Elektronska Agora), Culture 2000, kibla-libat-ciant coproduction,dvd
2005 - Andrej Brumen-Čop: The Rest (Počitek), exhibition of paintings catalogue
2005 - Cork2005, European Cultural Capital, Slovene introduction of visual art Eye Try, catalogue
2004 - Shuzo Azuchi Gulliver: Banknote/Sweet Life (Bankovec/Sladko življenje), visual art exhibition catalogue
2004 - Mitja Ficko: Sign (Znamenje), exhibition of paintings catalogue
2003 - tx0om, Culture 2000, kibla-foam-time's up coproduction, dvd and a catalogue
2003 - Ven Jemeršič and Dejan Štampar: Ultrapas, electronic diary notes and a cd-rom
2003 - European Multimedia Accelerator, DVD
2002 - 1. mednarodni festival KIBLIX 2002 - IT Linux festival, catalogue
2002 - Marko Črtanec: Bjor Haremsheld Gardens (Vrtovi Bjor Haremsheld), exhibition of wooden products catalogue
2001 - Marko Jakše: Don't Let Yourself Be Hurt This Time, catalogue of paintings
2000 - Aleksandra Kostič:I levitate, what's next… (Lebdim, kaj potem…), TOX, Maribor, collection of essay on the floating theme
1999 - Eduardo Kac: Telepresence, Biotelematics and Transgenetic Arts, collection of thematic essays
1999 - Vili Ravnjak: O poteh samospoznavanja, book
1999 - Vili Ravnjak: Smaragdna pot, book
1998 - Eduardo Kac: Teleporting An Unknown State, collection of essays

Contact:
Aleksandra Kostič
Peter Tomaž Dobrila
TOX eseji
Peter Tomaž Dobrila: Resnične vzporednosti - Berlin Transmediale 06 (.doc); februar 2006
Peter Tomaž Dobrila: Kultura poti in potovanj - Berlin Transmediale 08 (.doc); februar 2008

Sections












-
-


Festivals





Projects, Coproduction and International Cooperation



Subscribe to newsletters


Find us on:
E-Excellence Award 2008